Oil prices completed the trades of last week with a steady growth, having updated the record highs for the last four years. Investors are reacting to the aggravation of geopolitical risks in Syria.
The market is concerned about the development of the crisis in the trade relations between the US and China, which have not made progress on the issue of import duties.
At the end of last week, the Baker Hughes report on active oil platforms in the US was published. After a short decline, the figure resumed its growth and rose from 808 to 815 drilling rigs.
Support and resistance
Bollinger Bands in D1 chart show moderate growth. The price range is slightly expanded, while remaining spacious enough for the current activity level in the market. At the moment, the instrument is trading near the upper limit of the range.
MACD indicator reverses downwards, reacting to the appearance of "bearish" trend at the beginning of the new trading week. The indicator still retains the previous "bullish" signal (the histogram is located above the signal line).
Stochastic, while in close proximity to its maximum marks, is trying to reverse downwards.
It is reasonable to maintain the position out of the market and wait for the final signals on the corrective decline to appear in the short and/or ultra-short term.
Resistance levels: 67.50, 68.00.
Support levels: 66.36, 65.81, 65.25, 64.50.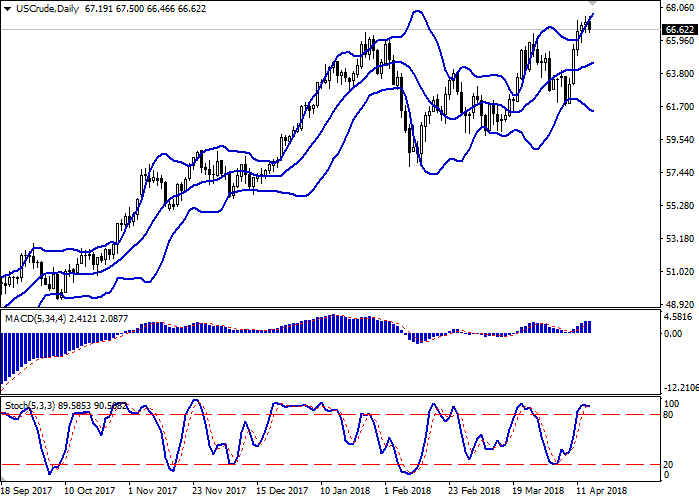 Trading tips
To open long positions one can rely on the breakout of the level of 67.50, while maintaining "bullish" signals from technical indicators. Take-profit – 68.50. Stop-loss – 66.75. Implementation period: 2 days.
A breakdown of the level of 66.36 may be a signal to correctional sales with target at 65.00 or 64.50 marks. Stop-loss – 67.00. Implementation period: 2-3 days.